By Popular Request, Grove Art Online and Grove Music Online Now in Reference Universe
08 November 2011 by Paratext Editorial
News | Product Updates | Reference Universe | Art History | New Collections | RU Product Updates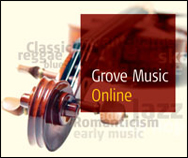 Paratext is pleased to announce that detailed metadata from Grove Art Online and Grove Music Online from Oxford University Press are now integrated into Reference Universe.
Many current Reference Universe libraries tell us that these titles are among the most heavily used within their library. Their inclusion within Reference Universe ensures increased accessibility to some of the most authoritative articles on art and music available.
Grove Art Online initially grew out of the landmark 34-volume print title the Dictionary of Art, containing comprehensive coverage of Western and non-Western art. In addition to 45,000 articles on a variety of relevant subjects, the collection includes over 6,000 searchable images and even more links to images at museums and galleries to help students achieve a more complete artistic research experience.
Grove Music Online allows digital searching of some of the most important works for musical scholarship including The New Grove Dictionary of Music and Musicians, The New Grove Dictionary of Opera, and The New Grove Dictionary of Jazz. With over 50,000 articles representing the work of over 6,000 of the most respected musical scholars from around the world, it's one of the most comprehensive and valuable resources on the market for music research.
These additions continue Paratext's efforts to make Reference Universe the most comprehensive tool for the access and discovery of authoritative reference sources within your own library.