New Introductory Portal and Thousands of New Documents now live in Public Documents Masterfile
23 February 2011 by Paratext Editorial
News | Product Updates | U.S. Documents Masterfile | USDM Product Updates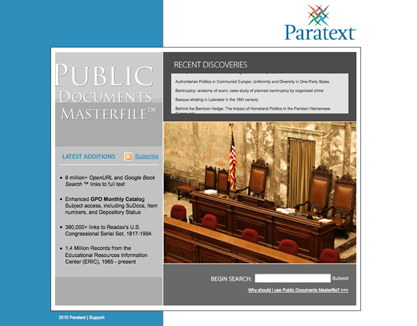 Paratext is pleased to report that you can now find a new, introductory search portal when accessing Public Documents Masterfile.
This new landing page makes it easy for you to join our RSS feed to keep up with new content updates and other information related to Paratext products, provides your users with a basic description of the service, and offers a reminder of the variety of subjects and fascinating information included in the index via our scrolling discovery bar.
Recent Additions to the Public Documents Masterfile content include:
Over 250,000 records to the Department of Energy portion of the service, now totaling 266,886
The index to the Farmer's Bulletin, including all pamphlets produced from 1889 to 1997
ERIC files are now updated from 1965 to 2010 bringing the current number to more than 1.3 million
Popular Names of U.S. Government Reports, a revised and updated key to the popular names used in citing U. S. government reports
12,000 additional records to Readex's Congressional Serial Set 1818-1994
Index to The Annals of Congress 1789-1824, which covers the first 18 congresses
Index to The Register of Debates 1824-1837, which pick up where the Annals left off covering Congressional sessions
This is part of our ongoing effort to keep Public Documents Masterfile the most comprehensive resource for finding the government documents you need–online or on your library shelves. If you have yet to see the value Public Documents Masterfile can add to your library, contact us for a free 30-day trial of the service.