Congressional Globe and more now indexed in 19th Century Masterfile
26 April 2011 by Paratext Editorial
News | Product Updates | Eight Centuries | American Studies | Political History | New Collections | 8C Product Updates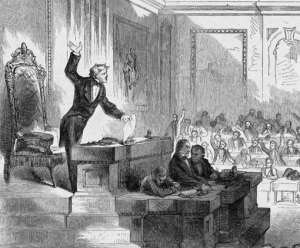 As we've all been recently reminded of the important role Congress plays in ensuring the day to day functions of democracy, it can be useful to keep in mind the history of one of our most influential government institutions.
19th Century Masterfile now includes the indexes to the Annals of Congress, the Register of Debates and much of the Congressional Globe, bringing our coverage of Congressional papers up to the 39th Congress in 1867, with greater coverage planned in 2011.
The Annals of Congress, Register of Debates and Congressional Globe, as the precursors of theCongressional Record, are an extraordinary cache for research materials, covering the growth of the nation from the Continental Congress to the beginning of the Industrial Age.
Before Congress began publishing its own debates and proceedings in 1873, Joseph Gales and William Seaton began collecting and selectively publishing early summaries of the proceedings; first, in what they called the Annals of Congress, covering the first 18 congresses (1789-1824); as well as a report of the leading debates of Congress in the Register of Debates (1824-1837).
Additionally, in 1833, Francis Blair and John Rives began a newspaper-like publication called theCongressional Globe with daily coverage and bound volumes at the end of each session. It also contained presidential messages, certain executive department reports, and the text of public laws.
If you're wondering what kinds of issues Congress was focused on in the 19th Century, here's a taste:
Resolution directing Committee on Military Affairs to inquire into the expediency of providing by law that soldiers entitled to artificial limbs may in certain cases receive the value of such limbs in money in lieu of the order on the manufacturer, 1867
An act for the payment for horses and arms lost in the military service of the United States against the Indians, 1833
Resolution that the seat of Government of the United States ought to be removed to the valley of the Mississippi, 1868
The committee on the suppression of the slave trade instructed to inquire into the expediency of amending the existing laws for the abolition of the trade, 1824
Piracy Bill, motion to reduce the number of sloops of war, 1825
Bonds declaring that the enormous expenditure raised by contribution and taxation to put down the late rebellion was responded to with alacrity unparalleled in history, and therefore it ought not to be required of this generation to discharge, by taxation, the entire national debt, but leave a portion of it to be borne by the next, on whom this rich and noble Republic will descend, 1759
Bill authorizing the payment of the rewards offered by the President of the United States and the officers of the War Department in April and May for the capture of Jefferson Davis, 1867
A report from the Secretary of War, with statements of all the treaties held with the Indian tribes, 1813
Concurrent resolution instructing the Commissioner of Education to report to Congress upon the feasibility and expediency of introducing the phonetic system of spelling into general use in the schools and its adoption in general literature, 1867
Bill to provide for removal of Indians west of the Mississippi, 1830
Joint resolution directing the joint Committee on the Library to inquire into the expediency of requiring every person who may apply for the copyright of any book, map, chart, print, engraving, or other publication, to deposit a copy of the same in the State library of the State in which such person resides at the time of making such application, 1869
Tunicas, historical sketch of the, tribe of Indians, 1807