150 Years Later: Researching the Civil War in 19th Century Masterfile
12 April 2011 by Paratext Editorial
Eight Centuries (formerly 19th Century Masterfile) | American Studies | History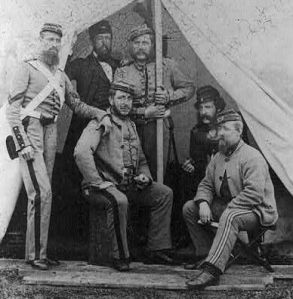 On the 150th Anniversary of the commencement of the United States Civil War, we are reminded of the great value of primary sources in helping us better understand the experiences of those that came before us.
New research and analysis is emerging all the time to provide new perspective on the events and players in the war. It is our goal to ensure that you and your patrons can find the most valuable documents available for offering insight into the experiences of early Americans.
19th Century Masterfile is the most comprehensive resource for the discovery of 19th-century primary sources.
To help give you a sense of the sort of information available in 19th Century Masterfile, we've collected some examples of relevant citations we've found:
Woman's work in the civil war: a record of heroism, patriotism and patience, 1867
The pictorial battles of the civil war, 1885
Employment of Indians and negroes in the military service of the so-called southern confederacy, 1861
The Civil War in song and story: 1860-1865, 1889
The Rebellion record; a diary of American events, with documents, narratives, illustrative incidents, poetry, etc., 1861
Civil War correspondence [microform], 1862-1865
Beginning of the End; Gulf States Deserting Confederacy, 1865
Character of Abraham Lincoln: and the constitutionality of his emancipation policy, 1863
The Pope and the Confederacy, 1865
Find out more about using 19th Century Masterfile for Civil War studies here.
To ensure you and your patrons don't overlook the most valuable primary sources available for your historical research, contact us to try out 19th Century Masterfile today.