Indexes to British Art Exhibitions 1760-1912 now online.
28 October 2015 by Paratext Editorial
News | Product Updates | Eight Centuries | Art History | New Collections | 8C Product Updates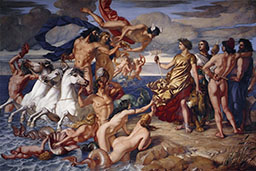 Many bibliographers and scholars using 19th Century Masterfile have asked for expanded coverage of the visual arts. To that end, we're very happy to announce that Graves' Indexes to Art Exhibitions 1760-1912 is now completely digitized and online in 19th Century Masterfile.
Graves' indexes are a seminal resource not only for the study of art, but for users from numerous scholarly disciplines.
These indexes offer the researcher opportunities for:
Tracking the migration of artists to different neighborhoods.
Tracing the celebrity of public figures through exhibitions.
Gaining insight into popular themes adopted by artists.
Analyzing gender bias in subject matter and placement of works by female artists.